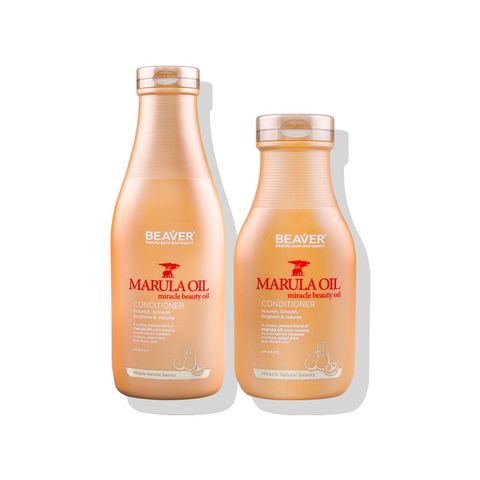 Beaver Marula Oil Miracle Beauty Oil Zero SLS Conditioner
Treat your scalp with this intensely hydrating conditioner that is infused with the nourishing goodness of Marula oil. With miracle smoothing and softening benefits, Marula Oil will gradually restore the lost shine and vibrancy of your hair in just a few uses. Brightens the look of the hair and nourishes it from root to tip with a long lasting shine that stays on for up to 72 hours. The conditioner also works to curb ultra-frizzy hair and help you easily comb down any pesky little hairs sticking out. It promotes shine and adds a sleek gloss to your hair making it appear super-shiny and gorgeously silky. Marula Oil and Quinoa extract nourishes and treats dry hair, damaged structure, and smooths the cuticle, making hair combing easier. It also helps to prevent hair loss.
Brings deep nourishing and long-forms a protecting film on scalp when nourishing, protects and brightens hair, moistures and repair. revives hair to moisturizing and glossy.
Gently cleanser your hair to remove daily oils and deposits.
Leave your hair tangle-free to flow freely and easy manage.
Smooth textures thats allow for deep penetration for a good results.
Zero SLS (Sodium Lauryl Sulfate Free).
Comes with 730ml & 40ml packing.
Contains:
Brillianting Tech - Helps coloured hair maintain richness of colour for longer time! 
Natural lipa which is very similar to skin ~ Nourising and permeating scalp fast, soften and brightens beautiful hair in seconds
60% anti-oxidants which is more than argan oil ~ energising hair antioxidant capacity, luxury smooth and brightens hair.
plenty of monounsaturated fatty acid and nourishing and repairing ingredients that help with self repair.
Colour protecting technology and sun-blocking combination formulation
Ingredients as indicated on Shampoo bottle (pH 5.5 ~ 6.5):
Water (Aqua/Eau), Ammonium Laureth Sulfate, Cocamidopropyl Betaine, Glycol Distearate, Ammonium Laureth Sulfate, Glycerin, Argania Spinosa Kernal Oil, Cocodiminium Hydroxypropyl Hydrolzed Keratin, Sodium Hyaluronate, Chenopodium Quinoe Seed Extract, Glyceryl Caprylate/Caparte, Hydroxyethyl Urea, Cocomide MEA, Dimethicone, Parfum, Guar Hydroxypropyltrimonium Chloride, Sodium Chloride, AcrylatesC10-30 Alkyl Crosspolymer, Citric Acid, Tetrasodium EDTA, DMDM Hydantoin, Phenoxyethanol