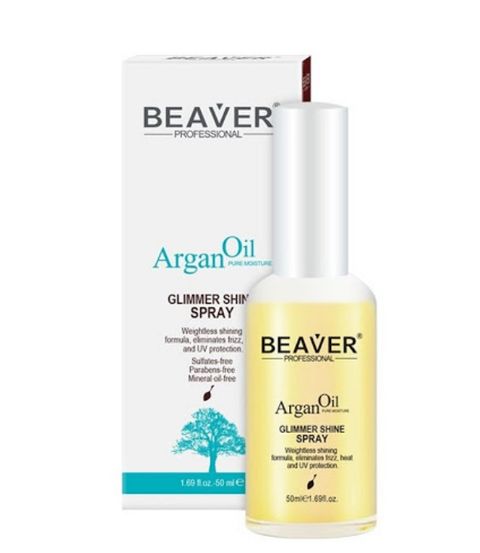 Beaver Professional Argan Oil Glimmer Shine Spray 50ml
Highlights hair soft, shiny, smooth thanks to Moroccan Argan Oil available Available in shampoo, conditioner, hair mask, oil spray feeling Argan Oil strengthens hair, so there's no need more bricht spray prevents curled, smoothes and crafted jewellery enhances its shine the Argan tree with precious rich Argan Oil from its fruits is only available in Morocco The Oil is taken has been used for centuries for skin care and Verspeist you can choose from multiple products.
Beaver Argan Oil Glimmer Shine Spray – simply as a finish for shiny hair Aufsrühen and doesn't rinse out.
The really care of the hair begins with the shampoo. The especially mild shampoo with Argan Oil Cleans your hair juice and makes it perfectly to the care. This shampoo do not in your set. Shiny Hair Starts when cleaning. Use it daily for UV protection. 
Suitable for all hair types. 
Hair Spray Finish Shine spay protects the hair against curl and rich Gättet your hair, anti-frizz and extreme shine to the hair. 
Weightless contract so you have a light mist over hair, it polishes it all hair types with mirror and glossy. 
Eliminates frizz and flyaways, heat and UV protection. A powerful product Argon oil and UV filter infused, you will receive an instant shine and protection against these items. 
Instantly repairs ensuring elasticity dry, damaged, frizzy hair will immediately smoothed. 
Instantly Penetrates into the hair shaft to your hair without weighing it down. Protects the hair against heat devices like hair straighteners,