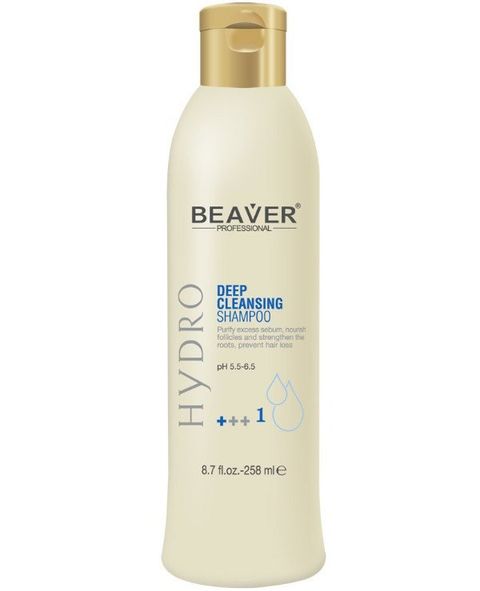 Beaver Professional Hydro Deep Cleansing Shampoo +1 258ml
DEEP CLEANSING SHAMPOO +1 (pH 5.5-6.5) Chemical residuals, especially Mineral Oil will accumulate in hair and scalp after many times of using styling products or nourishing products. Even the water we use for shampooing contains metals, minerals and oxides which are all harmful to hair. Deep Cleansing Shampoo removes all residues and helps relief and refresh scalp. We recommend alternating this shampoo with another moisture shampoo as deep cleaning your scalp every single day might cause your scalp to become too dry. 
Beaver Hydro Deep Cleansing Shampoo - Dandruff Cleansing Shampoo. Prevents the appearance of dandruff and seborrheic dermatitis. Smoothes hair and makes it shine. Deep Cleansing Shampoo prevents dandruff and seborrheic dermatitis A complex based on zinc and an extract of the Tatar Astra is specially designed to combat dandruff and prevent its reappearance. Big bottle size of this shampoo is available on indent provided we receive enough enquiries for it. Your patience on this is greatly appreciated.
Suitable for all hair types, especially greasy, permed or coloured hair. This remarkable formulation cleanses residues of styling products leaving hair smooth with more volume. 
Benefits:
Restores the normal balance of the scalp and its functioning, thanks to a specially developed bacteriostatic formula in the shampoo
Gently cleanses the scalp, soothes itching;
Controls the appearance of dandruff;
Smoothes hair and makes it shine
Key Technique:
Active cleansing factors system helps cleanse hair and scalp deeply and rids hair of residues, minerals and lipa thouroughly. 
Olive extractive helps supply moisture to leave hair smooth, easier to comb and volumes hair.
Ingredients as indicated on bottle:
Water (Aqua/Eau) Sodium Laureth Sulfate, Sodium Lauryl Sulfate Ammonium Lauryl Sulfate, Cocamide MEA, Glycerin Sodium Chloride, Parfum, Tetrasodium EDTA, Panthenol, Hydrolized Corn Protein, Hydrolized Soy Protein, Olea Europaea (Olive) Fruit Extract, Hydrolized Wheat Protein, Methylchloroisothiazolineone and Methylisothiazolinone.