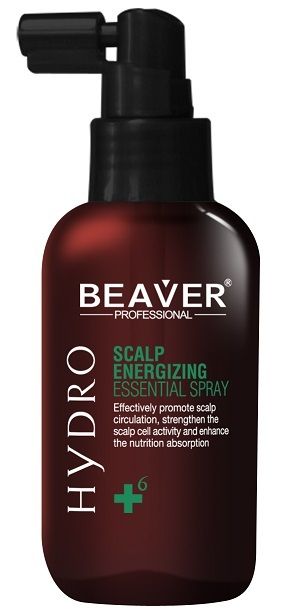 Beaver Professional Hydro Scalp Energising Essential Spray 50ml
This alcohol free hair tonic is infused with natural peppermint , ginger and lavender oil together with other high purity ingredients that encourage scalp circulation, offer nutrition and energy that helps enhance hair roods. Nutrients offered reduces lipa leaving scalp soothed and comfortable.
Beaver Hydro Scalp Energizing Spray - A tonic spray against hair loss and to stimulate hair growth. Reduces the amount of hair loss after the first application. Stimulates local blood circulation, improves nutrition.Scalp Energizing Spray reduces hair loss after first use
A panacea spray to solve the bothersome problem of hair loss. Scalp Energizing Essential Spray is a storehouse of herbal extracts aimed at solving the problem of hair loss! The spray has a local irritating effect, contributing to a better blood supply to the follicles, which in turn improves their nutrition. Applied in combination with drugs to stimulate the growth of "sleeping" resources, the spray improves permeability and significantly accelerates their effect.
Benefits:
prevents and prevents hair loss;
helps in prolonging the life cycle of the hair, thereby making the hair thicker;
promotes absorption of more nutrients by follicles.
Stimulates local blood circulation, improves nutrition
Ingredients as listed on the tube:
Water/EAU/AQUA, Propylene Glycol, PEG-40, Hydrogenated Castor Oil, Sodium PCA, Mentha Piperita (Peppermint) Oil, Menthol, Lavandular Angustifolia (Lavender oil), Dipotassium Glycyrhizate, Butylene Glycol, Panthenol, Vanillyl Butyl Ether, Tetrasodium EDTA, Salvia Miltiorrhiza Flower/Leave/Root Extract, Zingiber Officinale (Ginger) Root Extract, Methylisothiazolinone, Idopropynyl Butylcarbamate.