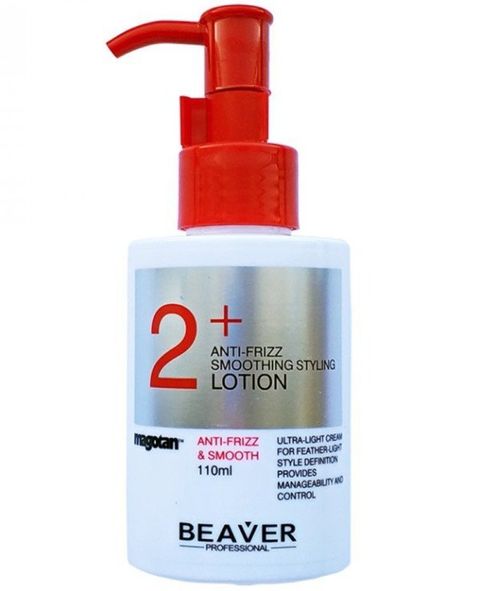 Beaver Professional Magotan 2+ Anti-Frizz Smoothing Styling Lotion 110ml
Beaver Magotan Anti-Frizz Smoothing Styling Lotion - Moisturizing smoothing lotion for dry and naughty hair with easy fixation. Makes hair obedient and soft. Prevents the appearance of static electricity of the hair.
Anti-Frizz Smoothing Styling Lotion makes hair obedient and soft. Suitable for curly, wavy and naughty hair, makes them smooth and protects during thermal styling.
Benefits:
An energy cocktail in the composition of the product nourishes and moisturizes the hair along the entire length gives it shine
Straightens hair making it even until the next wash;
Makes hair smooth facilitating combing during styling;
Provides thermal protection against the effects of a hairdryer or ironing;
Prevents dry and brittle hair.
Prevents static hair

Quick dry and not sticky.

Slight shine and slightly moisturising. 

Provides hair with UV protection.

 
Reminder
This is not a cream that you apply on and you will get straight hair.
When applied on wet hair, this amazing lotion guarantees no tangling of hair, reduces frizz and helps smoothen hair scales.
Provides two star hold for hair without looking stiff and natural.
Water soluble - this means it can be restyled just by damping your finger tips with a bit of water and it also means: NO RESIDUE after shampooing!
USER TIP: If the contents dry up, add a bit of tap water, close the lid tight and leave it for 24 hours. It will soften up and will be good to use again!
DIRECTIONS: Rub in palms and distribute evenly through damp hair so that it can evenly spread. Dry with heat if you prefer straight looking hair.
Ingredients as indicated on bottle:
Water, Alcohol, Polyquaternium-37 (And) Propylene Glycol Dicaprylate Dicaprate (And) PPG-1, Trideceth-6, Dimethicone, Isononyl Isononanoate Glycerin, DMDMm Chloride/Acry Lamide Copolymer, Hydrolyzed Wheat Protein, Hydrolyzed Maize Protein, Hydrolyzed Soy Protein, Parfum, Organic Plant Essence, Amino Acid Atom, Aleo and Herb.