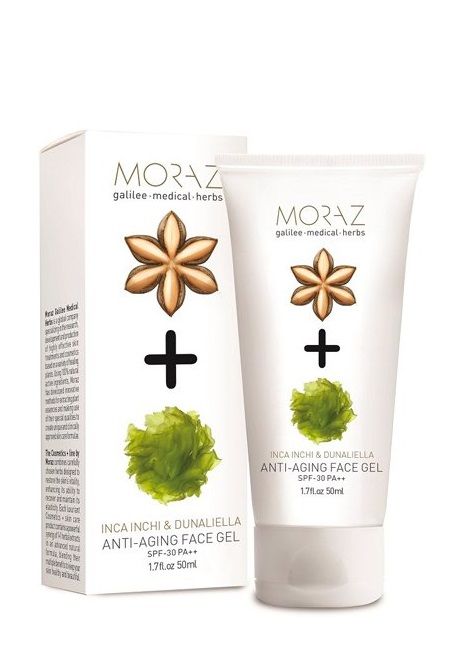 Moraz Galilee Medical Herbs Anti Aging Face Gel SPF 30PA++
The new smooth formula contains unique Sacha Inchi seed oil and Dunaliella green microalgae extract, rich in fatty acids, antioxidants, vitamins A, E and minerals, plant active factors can promote cell metabolism and delay aging, effectively resist UVA and UVB damage, prevent pigmentation caused by sun exposure, soothe and repair and nourish, and provide meticulous care for the skin every day. Approved by Israel Diabetics Association. Made in Israel
This is the only known sunscreen bearing face moisturiser that comes in a transparent gel form that is not sticky and is specially formulated for our tropical climate.

Upon application unto skin, skin will be left feeling smooth and silky. Suitable to be used under a face mask or as a base for make up.

Inca Inchi contains high doses of omega-3, omega-6 and omega-9. Contains anti-Oxidants, fatty acids and Vitamin E & A. Protects, Moistutises, enhances cellular regeneration and reduces the appearance of wrinkles.

Dunaliella is a sea salt algae that is a unicellular micro algae that thrives in high temperature sale waters. Large quantities of photolyase and beta-carotene with immense health benefits.

An Anti-Aging Agent rich in anti-oxidants, essential fatty acids, minerals, vitamins and proteins. Helps rejuvenate, refresh and nourish skin cells.