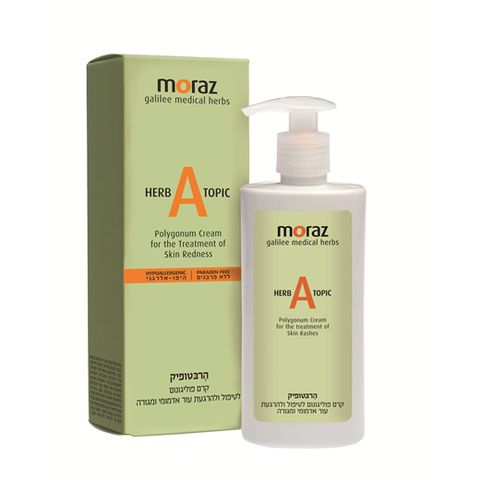 Moraz Galilee Medical Herbs Herbatopic Polygonum Cream 250ml
A complete herbal range that is proven and effective for all skin issues, contains 75% Polygonum extracts suitable for treatment of skin redness caused by rashes. Approved by Israel Diabetics Association. Made in Israel.
From now there is a natural and safe solution for Atopic Dermatitis that gets rid of irritated, itchy and flaky skin:
Based on natural active ingredients, does not contain any steroids, safe for daily use without any restriction, suitable for very sensitive skin.
Contains high concentration of Polygonum, a medical plant rich in silicic acid, tannins and flavonoides, which are important to the structure and growth of connective tissues and possesses anti inflammatory and anti fungal healing properties with an antioxidant effect. The Polygonum restricts and builds damaged tissues, rejuvenates the growth of new skin cells and rehabilitates the damaged skin area. Modern clinical research proves unequivocal efficiency of Polygonum in treating inflammations and infections without any drug interactions. 
Polygonum adapts itself to the body's functions, thus eliminating contraindication.
The cream absorbs well into the skin, does not contain any perfume and comes in a discount package of 250ml pump bottles – for easy and convenient use.

How to Use:
For treatment – apply two-three times a day until improvement.
For prevention – apply generously on clean skin on problematic areas until fully absorbed.
Complementary treatment – For sensitive and gentle skin bathe with Baby soapless soap and apply Skin Saver on acute skin local irritations, recommended for both children and adults.