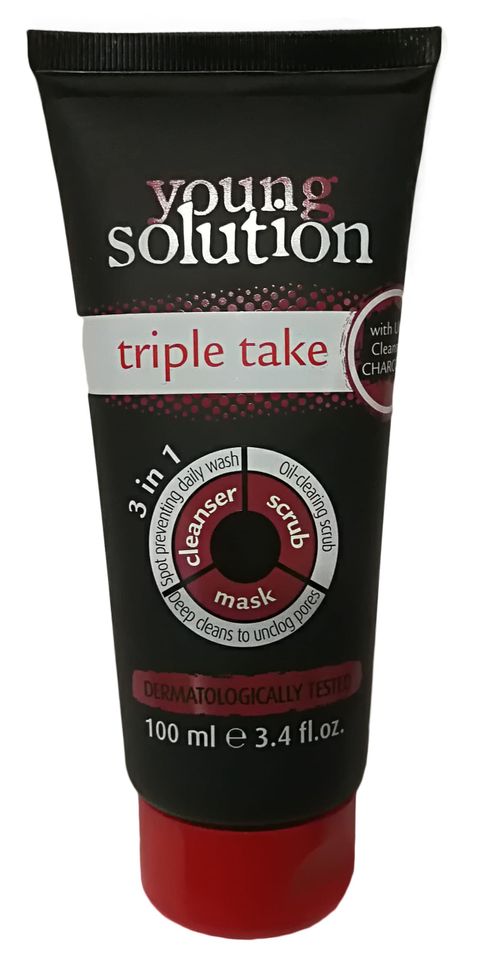 Young Solution Triple Take - Face Cleanser, Mask & Scrub 100ml
YOUNG SOLUTION TRIPLE TAKE is an extremely unique product! This product is soap free so there are no bubbles and does not dry the skin. An ideal cleansing 'milk' for acne prone people looking for a cleanser without foam.
It contains charcoal extracts that are known to deeply cleanse pores and control oil secretion maintaining a balance environment for your skin. It can be used 3 different ways: As a cleanser or scrub or face mask!  Results in silky smooth skin!
As a Mask: Use product as it is if you need a face mask. Leave to dry on skin and wash off using damp facial cotton. 
As a scrub or facial cleanser: Damp your face, apply Triple Take on the palms of your hands (add more water to dilute it to be used a cleanser) and work in circular motion gently on your face. Rinse off when done.

You would not need another mask or scrub ever again!
Young Solution is a skincare brand that offers products specifically formulated and designed to target the problems faced by teens and young adults all over the world. It promises oil-free, spot-free skin in no time at all.