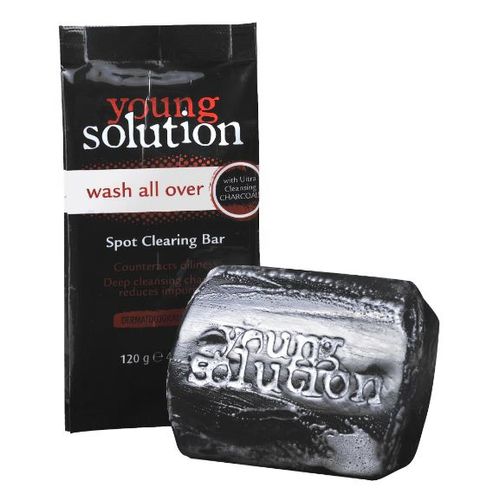 Young Solution Wash All Over Spot Clearing Bar 120g
This spot-clearing bar contains ultra cleansing CHARCOAL suitable for both face and body.  Highly recommended for people who have pimples on their arms or backs! Charcoal extracts coupled with low soap content helps deeply cleans your pores and has oil reducing impurities.  This amazing bar of soap counteracts oiliness leaving your skin refreshed after each shower. Amazing for humid or cold weather surroundings!
This charcoal activated soap is meant to eradicate and prevent spots and blemishes, so wash and scrub your face thoroughly. A blemish-clearing bar made with super-cleaning charcoal to help combat oiliness and thoroughly wash away pollutants that might cause spots. This soap bar was created to thoroughly clean and unclog pores, making it ideal for removing pimples and blemishes.